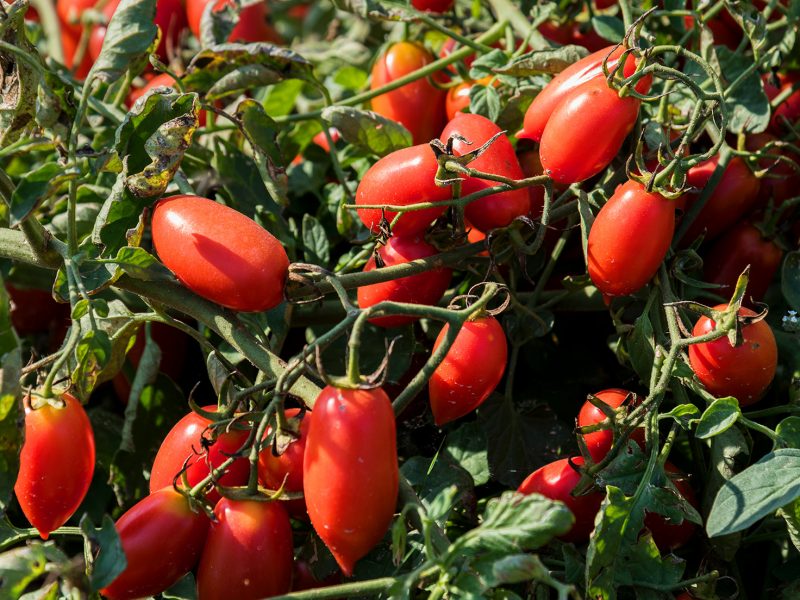 As a child who disliked tomatoes, my first meal in Italy, a simple penne pomodoro from the Autogrill, which is, you guessed it, a truck stop, opened my eyes to what a real tomato should taste like. I absolutely loved it. In Italy, everything in the kitchen is done with pride. Even at a truck stop. It was the first of endless mouthwatering, jaw dropping, "this is what life should be" moments.
Graduating from the truck stop to farms, wineries, and family restaurants, tomatoes in Italy have become one of the unique flavors that I adore when there, and nothing can match here at home. Nothing, that is, except the real thing brought to us from Mia Emilia, Mutti Tomatoes.
Giovanni Mutti, born in 1805 was a farmer who used advanced techniques for his time, such as crop rotation, to produce excellent results. His family through the years has continued emulating his farming techniques and now offers the tomatoes we love from Italy to us through a few select suppliers like Mia Emilia.
Mutti is located in Parma, a city in Emilia Romagna famous for some of Italy's finest culinary products. Cheeses, balsamic vinegars, hams, and of course, tomatoes. The family explains that for over 100 years, tomatoes have been their passion. They never pick a tomato when it's almost ripe or might be ripe enough. Only those that are perfectly ripe are selected, and only in the summer, when they're in season. All of their tomatoes come from rich farmland in three regions of Italy: the green hills of Emilia Romagna, Puglia, with its sparkling seas and ancient olive groves, and Campania, where Vesuvius looms and enriches, all at once.
It amazes me how food in Italy is integrated into the entire culture. During my last visit to the Campania region, our driver picked us up in bustling Napoli and took us to Pompeii. After our tour with a guide who brought the history to life and to death for us, our feet were tired, our minds soaking in the heavy story, incredibly preserved, and then it was lunch time. Outside the main ruins of Pompeii, the experience of a visit here is brought full circle. No more death and pained faces, here you relax and simply enjoy the fruits of the fertile soil. Lacryma Cristi wines, and tomatoes, sweet and rich served with fresh mozzarella. This family has brought back an ancient technique of aging wines in terracotta vats buried in the soil, just like they did in ancient Pompeii. Incredible.
Sitting at our colorful majolica tiled table, a distant mandolin played O Sole Mio as the family explained how the famous Lacryma Cristi got its name. According to local Neapolitan legend, when Lucifer was cast out of Heaven, he stole a piece of it, which landed along the Bay of Naples. Jesus shed tears recognizing its beauty and His tears graced the land with fertility that could only come from Heaven itself. Of course, this is legend, but sitting in the beautiful area with the warmth of the sun, the people, and flavors, it's impossible not to feel His hand in this place. Swirling and sipping the wine, then tasting the ripe tomato, you feel as much as you taste the heart of Italy.  
The Mutti family captures the flavors that help us experience, not simply taste, Italy. As CEO Francesco Mutti says,
"To work well means doing it with dedication, consistency, and intelligence – and also with a lot of passion and honesty."
Mia Emilia invites you to try these products yourselves! Now in our store and coming very soon to the website, we offer Mutti's Polpa Crushed Tomatoes, Whole Tomatoes, Whole San Marzano Tomatoes, Double and Triple Concentrated Tomato Pastes, and 3 delicious Pizza Sauces!
For some inspiration, we will share a couple of Mutti's own recipes below.
From all of us at Mia Emilia,
Mangia Bene!
Pomodoro e Basilico – Tomato Basil Sauce
Ingredients:
1 can of crushed Mutti tomatoes
1-2 cloves of garlic
1 bunch of basil
Salt
Process:
Crush the garlic with a knife and saute at low heat in the pan with a generous amount of extra virgin olive oil. The pan should be covered with a thin layer of oil.
Once the kitchen smells like garlic, it's time to add the Mutti tomatoes. The garlic should be slightly browned. Stir in a pinch of salt and turn the heat to medium to bring the sauce to a slow boil. Once it boils, stir it a few times, bring the heat to low, and cover. Cook for 10 to 15 minutes, stirring once in a while.
Taste the sauce and add salt to your taste. Shut off the heat. Add the basil leaves as they are, you can also add small bunches of basil with the stems and discard the stems later, they have flavor too!
Choose your favorite Mia Emilia pasta and mangia!
Pappa al Pomodoro - Italian Tomato Bread Soup
Ingredients:
1 baguette (best if a day or 2 old)
3 tbsp olive oil
6 crushed garlic cloves
1 tbsp Mutti Double Concentrated Tomato Paste
4 cups vegetable broth
1 can Mutti Crushed Tomatoes
2 cups Mutti Tomato Puree
1 tsp dried oregano
1 tsp onion powder
½ tsp salt
Dash black pepper
Fresh basil
Extra Virgin Olive Oil
Shredded Parmigiano Reggiano
Procedure:
Preheat oven to 400.     
Slice the baguette in half down the center and brush lightly with 1 tbsp olive oil.
Place the bread on a baking sheet.
Toast in the oven for 10 minutes on the middle rack, be careful it just toasts and does not burn.
Set toasted bread aside.
Heat 2 tbsp olive oil in a large soup pan over medium heat.
Add garlic.
Working with a wooden spoon, saute the garlic until golden brown.
Add the tomato paste, mix with the garlic.
Slowly pour in 3 cups of vegetable broth, whisking to dissolve the tomato paste.
Add the can of tomatoes and 2 cups of tomato puree, mix.
Season with the oregano, onion powder, salt and pepper, mix.
Bring the soup to a slow boil.
While the soup is coming to a boil, slice the toasted bread into small pieces.
Once the soup boils, add the bread.
Reduce heat to low.
Use your wooden spoon to submerge the bread and make sure it is all covered in the soup.
Simmer for 30-40 minutes, stirring every 10 minutes or so.
As the soup simmers, the bread will break down, if you have any large chunks left, use your spoon to help it break apart.
Add up to 1 more cup of vegetable broth to make the soup your desired consistency. Serve the soup warm and top with fresh basil, a splash of olive oil (or truffle olive oil for a special touch!), and Parmigiano Reggiano if desired.
Mangia!