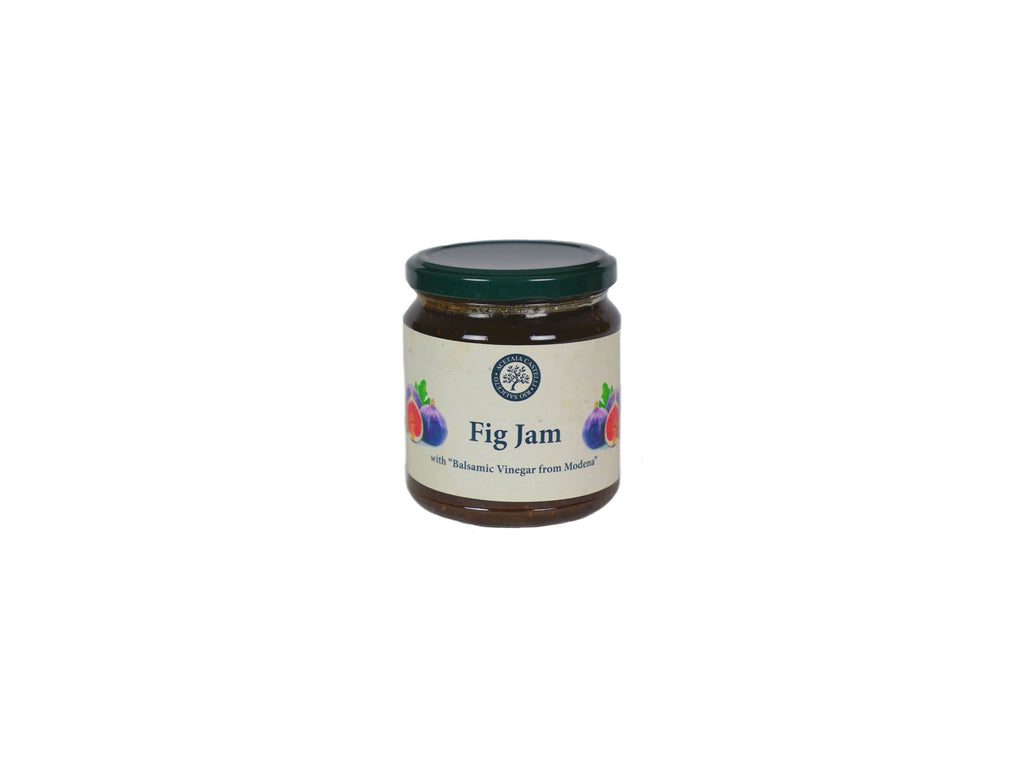 From majolica tiled tables overlooking the sea, to bustling markets, rustic kitchens, and roof top terraces, figs are special fruits, treasured all throughout Italy. 
Mia Emilia has discovered the ideal product that brings the flavors of fresh figs from Italy to our tables here at home.  Last week we introduced you to our friends at Acetaia Castelli, passionate makers of balsamic vinegar for generations. 
The family is so passionate about their vinegar that they have crafted some extraordinary products incorporating it with different local ingredients and traditional Italian produce.  The delicious Fig Jam with Balsamic Vinegar is one of these. 
At the first taste, your mind goes back to sunny mornings telling yourself Michelangelo can wait as you linger over your fig pastry and cappuccino. 
Now, you can start your morning the same way.  Even if the David is not waiting around the corner, a delicious Italian breakfast can still begin your day, or brighten it at any hour!
This jam is the perfect marriage of textures.  There are soft pieces of fruit and the unmistakable crunch of the seeds.  The sweet and only slightly sour balsamic vinegar complements the fig flavor wonderfully, combining the best of Italian flavors.
Minutes after we received our order from Mia Emilia, I heard my husband rustling around in the kitchen and then, "Oh, wow!"  I figured he must have opened the jar.  "Oh, wow!" is all I could come up with as well when it was my turn to taste.  We both agreed this is a product we will order over and over again.
In Italy you often find flavor combinations of sweet and salty or sweet and sour.  It is not uncommon to be served an excellent balsamic drizzled over vanilla gelato or wedges of strong cheeses.  One taste of combinations like this, and we realize Italian cuisine is so much more than we expected.  
The fig jam with the flavors of the sweet figs and balsamic will dress up your toast in the morning or help you create a cheese tray your guests will be talking about for years to come. 
For a wonderful appetizer plate, try an array of Mia Emilia's breadsticks, this fabulous jam, and a variety cheeses from Italy.  
To discover more about this family and the land that produces this and the rest of the fabulous Acetaia Castelli line, be sure to have a look at our video (link at the bottom) and enjoy a few moments of bliss in Italy's foodie paradise, Emilia Romagna.
As owner Andrea explains in the video, his great-grandfather began the business in 1895, and since then, each generation has maintained his passion and dedication to natural products and traditional processes. 
That passion and dedication gives us products that are truly exceptional.  You can taste the sun on the grapes, and the history of the land.  Food like this transforms dining from a daily necessity, to a memorable experience, and one you can feel good about.
Acetaia Castelli uses only figs (making up 48% of the product's ingredients!), sugar, balsamic vinegar, and lemon in their fig jam.  Pure ingredients made in Italy.  We hope you enjoy it!