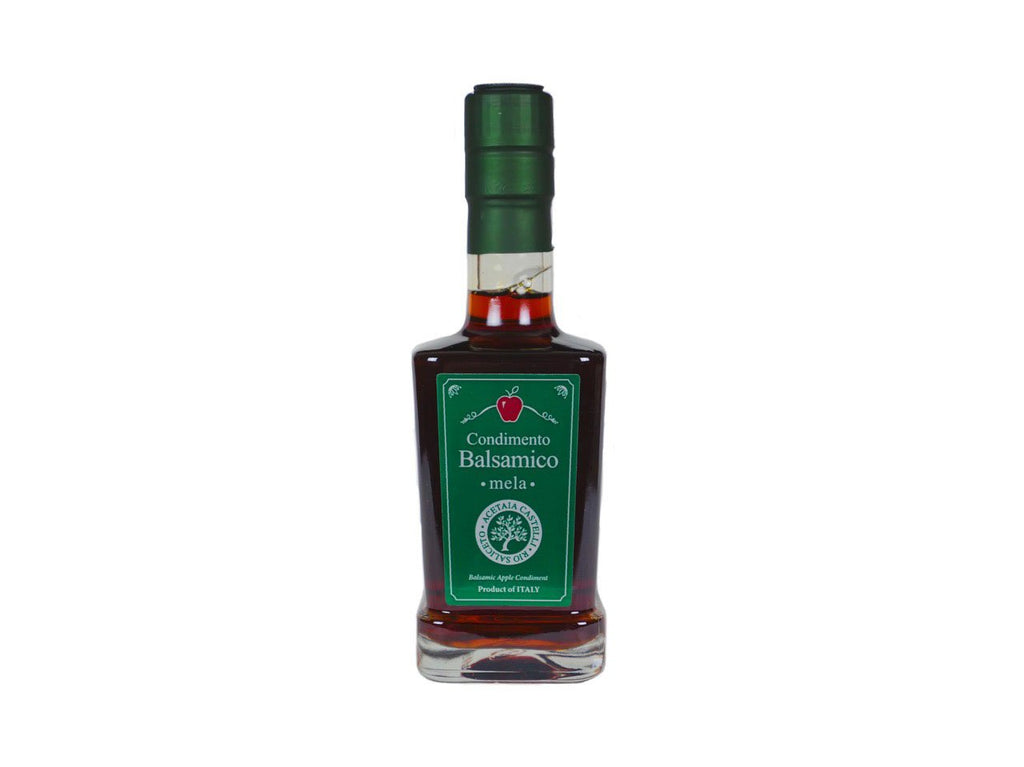 Mia Emilia is proud to introduce you to a new, fabulous product!  Our Apple Balsamic Condiment comes from the dedicated producers at Acetaia Castelli in Italy's Emilia Romagna region. 
Made from natural apple juice and white wine vinegar, its sweetness, fruitiness, and density come from the quality natural ingredients, and the techniques passed down from generation to generation.
If you love the flavor of balsamic, this is a must try, and if you love apples too, this just might be the product of your dreams.
Apples are everywhere this time of year around Christmas.  Apple pies, apple-cinnamon candles, apple teas, apple ciders, and wassail with apple juice, and now, this deliciously intense apple balsamic condiment. 
Its sweetness endears the product to everyone.  Even those who usually find vinegars too sour and acidic will love this one, due to its density and sweetness with the apple flavor.
During this season, the apple flavor lends itself beautifully to many recipes, whether you want to add a Christmassy flavor to your healthy salad, want to spice up your cheese tray, or plan to serve apple pie with ice cream at Christmas dinner.  Drizzled over vanilla ice cream, this apple condiment really shines. 
Since it flavors fruits, salads, cheeses and meats so nicely, it is just as appropriate and tasty in the Summer, which makes it a perfect gift that can be enjoyed year-round. 
Acetaia Castelli was Mia Emilia's first stop during our latest visit to see our producers in Italy.  Their warm welcome and passion for their products solidified the relationship with not only the products, but the people there.
They are a family owned, artisanal company that has been producing balsamic vinegars since 1895.  The current owner is Andrea, and he explained that the natural ingredients produced by the land, traditions handed down from his family, and quality balsamic vinegars have been his passion since he was a little boy. 
This passion drives him to continue doing things the traditional way, using only natural ingredients and methods that produce the best results. 
If you have a few minutes, we highly recommend taking a look at the video we filmed to share the experience there in Emilia Romagna with our customers. 
You will get to know Andrea and understand his passion and his roots.  At the end of the video, Andrea tells us that Geno (of Mia Emilia) selected Acetaia Castelli, but also that Acetaia selected Mia Emilia to introduce his products to us in the US so that we can experience such exceptional taste and tradition.
Mia Emilia is honored that Andrea selected us, and thankful to be able to offer our customers like you such special flavors from Italy.  Be sure to check our vinegars page for more products from this family that we will be introducing to you over the next few weeks.  Balsamic Vinegars IGP, Gourmet creams, and other condiments are available, each offering a unique and special flavor. 
We are big believers that food is not only for the body, but also for the soul.  Preparing and enjoying a meal together enhances relationships, gives life-long memories, and helps us focus on the things in life that really matter. 
We hope the quality of our products will bring some extra joy to your Christmas season, and all through the new year! 
View the video here: Meet Our Producers: Acetaia Castelli