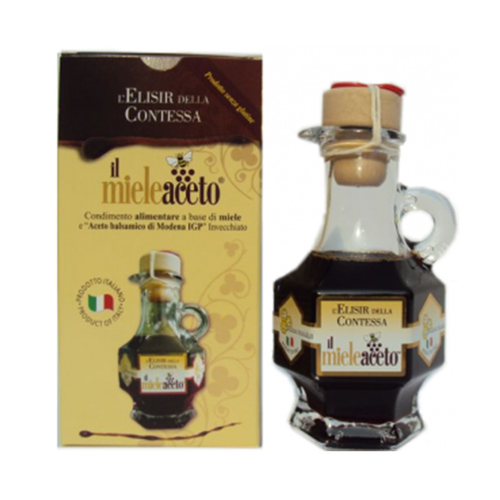 How sweet is summertime!  Fresh fruits and vegetables encourage light, healthy meals.  Sunsets linger long into the evening allowing for al fresco dining and a little extra time around the table with the ones we love.
Even during this strange summer, the sweetness still prevails when we focus on the beauty of nature and family and turn off the negativity for a while.
This summer I have been reminded of one of my very favorite products from Mia Emilia, and in fact, from all of Italy! Mieleaceto Countess Elixir IGP.
Two of the most authentically Italian flavors, found in countless recipes all throughout Italy are honey and aged balsamic vinegar of Modena.  Blended so beautifully together, as they are in this product, the taste is absolute magic.
For such a unique flavor, Mieleaceto is actually quite versatile, adding its special flavor to anything from grilled or roasted meats to vegetables, salads, fruits, and cheeses. 
If you have ever made a Caprese salad with tomatoes, mozzarella and basil and topped it with a typical store-bought brand of balsamic vinegar, you know the pooling effect that turns your salad soggy and the sour face you make when you get all the vinegar in one bite. 
The consistency and flavor of an aged balsamic vinegar of Modena is, as they say in Italian, "una cosa diversa", something different.  
Rather than pooling on your plate or bowl, this beautiful combination of the "real deal" aged balsamic vinegar of Modena combined with sweet acacia honey, coats, and clings to the food you dress with it.  This way, the flavor is able to soak in, giving each dish you use it in a truly, unique taste.
The Castellari family explains how this incredible product came to be:
"Mieleaceto begins in our family… Mieleaceto or the Countess' Elixir was symonymous with celebration in our family and not any "celebration", but a celebration par excellence that would make family history. It was a highly secret recipe that was handed down only from the women in the family and only to the women in the family: nothing was written, amounts and proportions of ingredients were told verbally and the preparation was done away from indescreet gazes. The birth of the product derives from the mixture of two elements, that were nevermissing in the cupboards of farm families; following the old recipe handed down over the generations, a condiment has been rediscovered for a"all meals" in the true sense of the words. Thanks to the exquisite union between the sweetness of honey and the unmistakable taste – odor properties of ABM (balsamic vinegar of Modena), the contrast between sweet and sour is delicateldy harmonious, balanced, soft like a hug… Unfortunately over the years, with development and global modernization, the tradition of passing down this recipe was lost, and with it the product as well. One day, Gianni Castellari found the recipe of this famous product in an old book while casually leafing through it, and decided, since he produced both of these products on his own farm, to reproduce it exactly like his ancestors did. Mealeaceto was born from the beekeeper Gianni Castellari."
Missing Italy even more than usual since we are unable to visit this summer, my husband and I have spent extra time getting creative in the kitchen and coming up with healthy ideas that taste of Italy and take us back.
One of our favorites, and undoubtedly healthiest concoctions thus far was a salad tied together by a generous drizzle of Mieleaceto. 
The salad was inspired by a memorable plate of gnocchi I enjoyed at Caffe degli Artisti in Cortona this February.  
The gnocchi were served in a rich cheese sauce topped with pears and nuts.  For the hot days of a Florida summer, we were going for something a bit lighter and more refreshing, and so this salad was born.
Tear some fresh lettuce like romaine or green leaf, and I like to mix in some arugula.
Finely slice the pears.
Any cheese you like would work for this, but we had brie in the fridge and I highly recommend it! Pecorino would also be a lovely choice.  
Toss in a few almonds or walnuts and top with an excellent Extra Virgin Olive Oil like Marini Giuseppe Toscano, IGP.
Then, the crowning moment! Drizzle plentifully with Mieleaceto Countess Elixir IGP and enjoy.
Apicultura Castellari has been kind enough to share some of their own suggested ways to enjoy Mieleaceto Countess Elixir that you can find below.
Buon Appetito!
Hors D'Oeuvres – Tarts
Grissini with cold cuts and drizzled with Mieleaceto
Focacce stuffed with cold cuts and Mieleaceto
Toasted bread with seasoned lard (Colonnata or Arnad) and Mieleaceto
Pasta Dishes
Tortelloni with spinach and ricotta cheese, seasoned with buter and sage, parmigiano reggiano and drops of Mieleaceto
Buttered rice or rice seasoned with parmigiano Reggiano and drops of Mieleaceto
Cold pasta or rice dishes
Crespelle
Filled pasta with meat or vegetables
Lasagne with Treviso radicchio
Gramigna pasta with sausage and cream sauce
Meat Dishes
Cuts of steak
Pork loin/roasts
Thin-sliced meats
Besaola/cured pork (if appreciated, add arugula and thin slices of parmigiano)
Roasted meats (chicken, pheasant, rabbit, pork)
Cotechino/zampone
Boiled/steamed meats
Fish Dishes
Seafood salad with vegetables
Shrimp salad
Steamed filet of cod/hake
Baked filet of bass/perch
Thin-sliced swordfish/tuna/salmon
Vegetable Side Dishes
Steamed vegetables
Grilled vegetables
Crudites (instead of oil and vinegar us Mieleaceto)
Cheeses
Pears and cheeses
Cheese and nute plates
Dippling cheese (put some Mieleaceto in a bowl and dip the cheese)
Suggested cheeses to try with mieleaceto: Caciotte, mozzarella, stracchino reggiano, pecorino fossa, gorgonzola, taleggio, parmigiano
Complete Meals
Savory torte with ricotta cheese and spinach with drops of Mieleaceto
Vegetable torte with drops of Mieleaceto
Stuffed tomatoes with tuna, hard-boiled eggs, mayonnaise and drops of Mieleaceto
Desserts
Gelato or ice cream
Cooked cream
Yogurt
Mousse
Ricotta cheese with nuts and Mieleaceto
Fruit salad (pineapple, watermelon, melon, apples, pears, strawberries, bananas…)
Fruit crudites for dipping (pu some Mieleaceto in a dippoing bowl and dip the fruit)