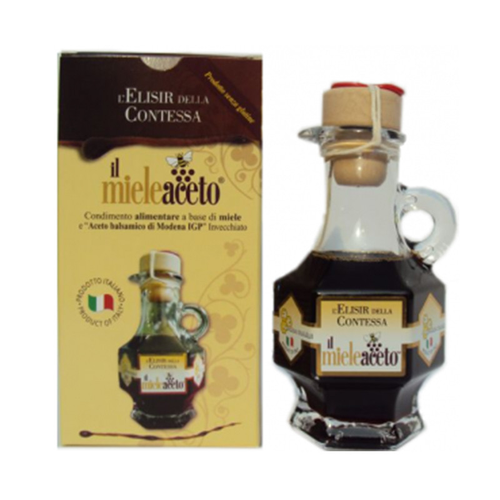 Have you ever tasted something and had to pause for a moment?  A taste so deep, it takes a few moments to comprehend.  Mia Emilia's Mieleaceto Countess Elixir IGP will give you that sensation.
My favorite thing about true, authentic, Italian products is that you can feel the history inside them.  When a recipe has been passed down generation after generation, it's love you taste as much as anything else.  The secret ingredient that can come from nowhere but the heart.
Mieleaceto is the gorgeous combination of two of the great prides from Italy's Modena Province in the region of Emilia Romagna: Acacia honey (miele) and aged balsamic vinegar from Modena IGP (aceto). 
Since both the honey and the balsamic from Modena are world renowned in their own right, the quality of this product is not surprising, nor are its origins, but they are charming indeed. 
The recipe comes from a very secret family tradition; nothing ever written, only passed down by the words and kitchens of this family's women.  Only the women ever made it, or ever learned how. Only the women, that is, until Gianni Castellari decided to reproduce it after it was almost lost so he could share it with the world.
Beginning with pure, excellent aged balsamic IGP, we are assured no additives or colorings but only the best natural ingredients and processes have been used.  Just the right amount of acacia honey is added to give a special, natural sweetness. 
According to the family, this product and its antique recipe was even beloved by Contessa Matilde di Canossa, who once inhabited the Canossa castle in 1077 when Pope Gregory VII took refuge there during disputes with German King Henry IV.
The Contessa is still venerated today for her support of the Pope and the Church, and since 1644 she has been buried inside St. Peter's Basilica at the Vatican.  An honor indeed!  Pope Urban VIII even commissioned the great Gian Lorenzo Bernini to design her tomb. 
It was this Contessa who inspired the name of this phenomenal elixir. 
The family recommends trying it with a variety of dishes: grilled red or white meat, vegetables, carpaccio, salads, and here are a few that stand out to me which we wouldn't necessarily think to do had we not experienced the delightful combinations in Italy! 
Pears and cheese, seasoned cheeses, fresh fruits, and… gelato!  All excellent with a little bit of Mieleaceto drizzled on top.
"Gelato and vinegar?", you may be asking.  Yes.  Try it.  But not just any vinegar will do.  This one is perfect.  It needs to be thick, naturally sweet, exactly like this. 
I've mentioned before my favorite winery in Italy.  So many recipes and wines and laughter we've enjoyed at their table.  We have learned to look forward to the gelato at the end of the meal, drizzled with an aged balsamic vinegar. 
If anything could top that flavor, it is this product with the addition of the honey for a little extra sweetness. 
Mia Emilia's Mieleaceto Countess Elixir IGP will leave you spellbound.  What history, and what flavor!  As you enjoy your very own, remember to give a nod to the Countess Matilde and to the passionate family who has carried this recipe to us through generations.