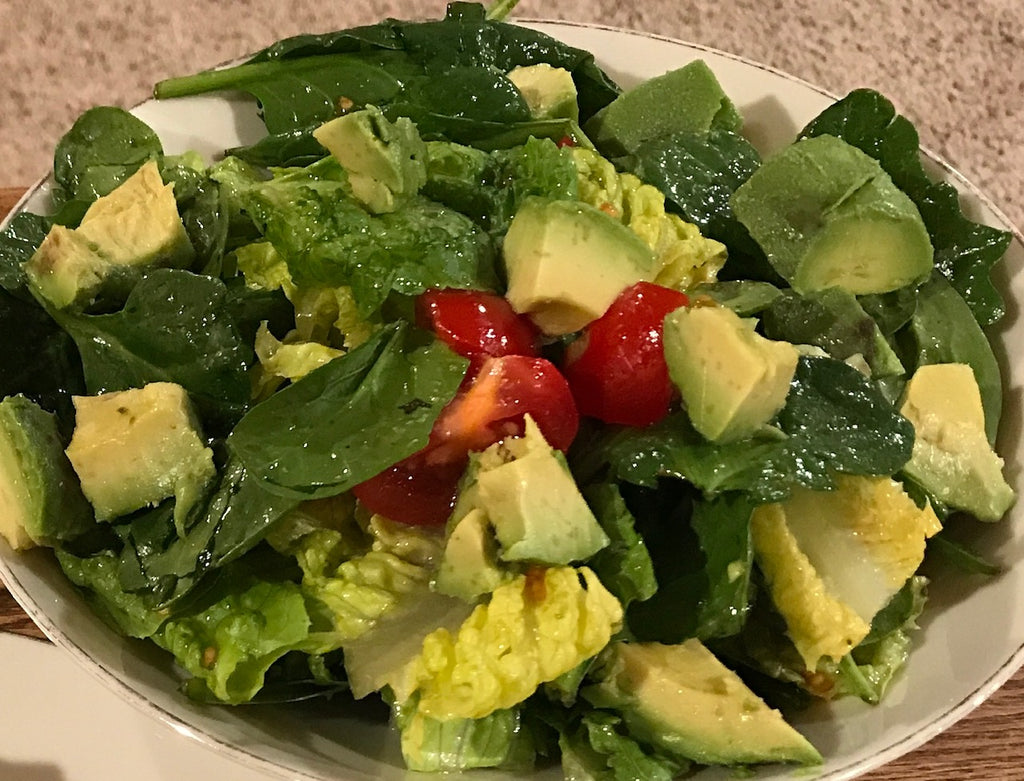 Order a bottle of Mia Emilia's White Balsamic Dressing and it just might become your favorite product in the kitchen.  It is healthy, delicious, and the perfect complement to salads, vegetables, fish, and any dish that you'd like to enhance by a little sweet and sour flavor.
When I started sampling all of the products from Mia Emilia, this one was probably the biggest surprise.  I knew the Extra Virgin Olive Oils would be incredible (though I didn't know how incredible!).  Chocolate of this quality from Italy has to be phenomenal, and it is.  The bottle of White Balsamic Sweet and Sour Dressing had me curious.  I knew it would be good, but I had no idea how obsessed with it I was about to become!
Salads are a staple in my house, as they probably are in yours.  But do you look forward to your salad, or is it simply your ticket to the next course, a requirement before digging into the good stuff?  After discovering this product, our salads have become the good stuff! 
Its sweetness and thickness coat every leaf.  The sour is there, but delicate and pleasant.  That facial pucker that results from lesser quality, higher acidity vinegars is non-existent here.  I could drink this vinegar! 
What makes it so special?  As you will find with all of Mia Emilia's products; purity, passion, and the family's dedication to tradition and excellence.  The makers from Emilia Romagna, one of Italy's most highly prized food regions, have been producing fabulous Balsamic vinegars in their family for many generations.
Their products use only DOC grapes from their very own vineyards.  To make their balsamic vinegars they use only cooked grape must and for some products, such as this one, the grape must is combined with a wine vinegar, also made from their own grapes. No chemicals, no colors, no thickeners or preservatives added. 
For this White Balsamic Dressing, they use 65% of concentrated white grape must from Trebbiano and Spergola grapes, and 35% of white wine vinegar.  From here the product is aged in virgin oak barrels to balance its color and sweet taste.  Acidity is kept to only 5%. 
This is Italy, so while flavor and quality always come first, there is also something to be said for "la bella figura" making a good impression, aesthetically as well.  The makers point out that this is the perfect product for not only a salad, but also fish and white meats, or any time you want the flavor of balsamic but prefer to keep its dark color from spoiling the presentation of your dish.
Try it with a spicy leaf like arugula combined with some blueberries, strawberries and gorgonzola cheese for a healthy meal you will actually be excited about!  It is also great with vegetables like asparagus or broccoli, or in a homemade marinade.
Do you ever ask yourself why we settle? 
We hit the "bo-go" section at the grocery and come out with twice the amount of multi-ingredient salad dressings pretending to be good for us.  When we read the labels we often find ingredients we can barely count, let alone pronounce, and we buy them anyway.  Why?  Why do we do this to ourselves?  Why do we do it to our families?
This morning I read the ingredients list of one of those, "balsamic and olive oil" salad dressings.  It has over 15 ingredients listed.  Doing a quick taste test between that and the Mia Emilia's Sweet and Sour Dressing, there really is no comparison. 
We went out to dinner on Saturday night and spent over 50 dollars without blinking an eye.  It was an experience and it was good.  Who doesn't like to do that occasionally? 
Then I had to laugh at us being the couple not so long ago, who grabbed the two for one salad dressing on the grocery shelves because it was a "good deal" and then wondered why we throw out several expired bottles of salad dressing every time we clean the fridge.  We don't even like the stuff we're buying in twos!
After discovering the White Balsamic Dressing, we look forward to a salad almost every day.  A product that costs less than half the price of our dinner out on Saturday night has given us months of healthy, enjoyable meals at home where we can know exactly what we are putting into our bodies. 
We have learned that yes, there is something to this "quality versus quantity" idea. 
Reading the label on our White Balsamic Dressing from Mia Emilia, sure enough, only two ingredients: grape must and wine vinegar.  It has transformed our eating habits.  Now we truly do want that salad for dinner, or those vegetables.  We want them, because now we know how to make them taste like they should.  Their flavor highlighted by the condiment, not smothered by it.
Traveling with first timers in Italy, I've witnessed quite a few humorous exchanges.  The funniest was the 18-year old who thought he would take advantage of Italy's younger drinking age and order a margarita and a cheese pizza.  Imagine his bafflement when the waiter brought him two pizzas!  One margherita, and one quattro formaggi (four cheese).  Another chaperone happened by and asked where everyone else was. "It's just me", he sheepishly admitted as he asked her to help him finish his food and explained the slip-up.  We laughed and laughed, and as chaperones couldn't even get upset with him, it was just too funny!
Another common situation with first timers is ordering a salad with "Italian" dressing.  The waiter looks all confused and finally explains, "there is no such thing in Italy!"  Lemon juice, yes.  Olive Oil, yes.  Balsamic vinegar, yes.  Bottled salad dressing, no.  Italians like to taste the fresh ingredients, complimenting them only with quality, simple, natural condiments. 
Always, once we give into Italy's culinary ways, we understand the wisdom in them.  What a shame to cover the flavor of fresh produce with all these dressings full of additives and preservatives!  Why not treat your loved ones to a product that will enhance their meals, made of only grapes that grow on a family vineyard?  Quality and excellence.
There is something quite special about enjoying products from a family farm like this one in Emilia Romagna.  A feeling of assurance that the family who made and lovingly aged this vinegar genuinely cares about what they're feeding your family, because they're feeding it to theirs as well.