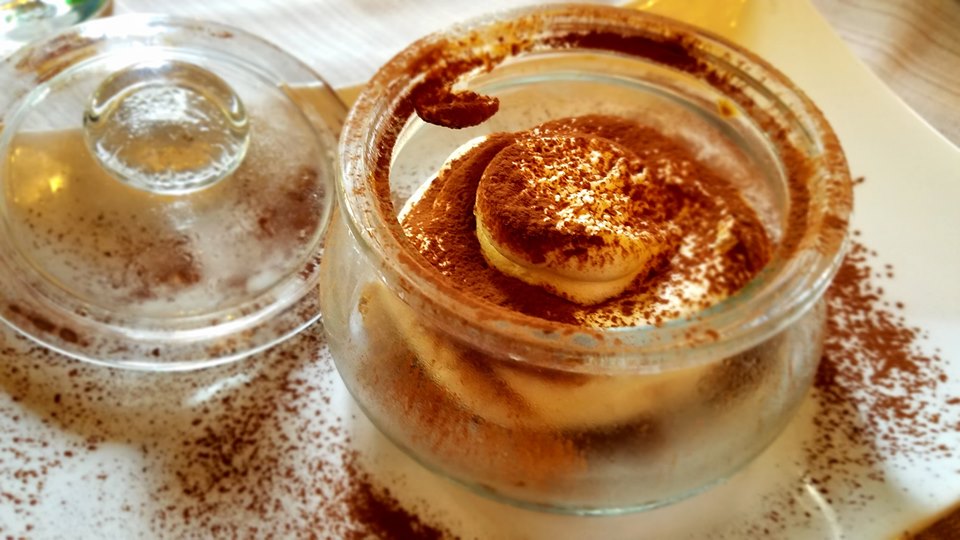 Tiramisu.  Every time I think about the words, Tirare – mi – su, a scene from my favorite movie immediately came to mind, "Under the Tuscan Sun". 
If you have seen it, you might remember the scene where Frances goes to Rome and meets Marcello. 
He tries to convince her that his cousin's antiques shop in Positano is not very far away, "About three hours, two if I drive fast. Ok, one if I drive really, really, really fast!"  Then he tells her, "I know, you think maybe I'm just trying to pull you up…"  A phrase that takes Frances a moment to figure out, "Pull me up?"  She looks a bit confused until the lightbulb comes on, "Pick me up!  Yes, there is that chance!"
I love the scene because it highlights so charmingly the little differences in our languages, which make learning and trying such fun! 
And, so we have Tiramisu.  From Tirare, to pull.  Mi, that one's self-explanatory.  And su, up.  Pull me up!  Of course to us, pick me up.
Italy's favorite pick me up has become one of ours as well.  Everything about it is fun.  It's fun to say, fun to make, and, of course, fun to eat! 
Classic tiramisu has only a few main ingredients: Lady fingers, mascarpone, sugar, eggs, coffee, and cocoa powder. 
You will find countless recipes for the dessert, but basically, after mixing up the eggs, mascarpone, and sugar, it's time for the fun part, putting it all together.  If you enjoy making lasagna, you'll probably like this too! 
Once all the parts are ready (cream, lady fingers, and coffee) you begin by dipping the lady fingers in the coffee and arranging them as the bottom layer.  There is a bit of an art to this, so they don't get too saturated and fall apart.
You want a good coffee, and of course, we prefer a good Italian one like Caffe EDOR.  You can enjoy drinking most of it but save enough to dip the lady fingers in and infuse them with that rich, delicious flavor that goes beautifully with the flavors of mascarpone and cocoa powder.  Here's another fun phrase in Italian, "Si sposa bene," it marries well.  
Once you have your lady fingers dipped and arranged, layer in the cream and repeat until you fill the dish to the desired height.  Finally, sprinkle with cocoa powder. 
We love the original.  Who doesn't really?  Still, it can be quite fun to play with the recipes and come up with some different ideas.  Many liqueurs compliment the coffee well, (si sposa bene!) and even in Italy you will find all kinds of chefs playing with the original idea.
Among my favorites was a Tiramisu flavored with Amalfi Coast lemons at a restaurant overlooking the sea in Positano.  Better still, it was set in the exact same building that was used as Marcello's house in the film.
The lemon flavor was delicate and sunny, so very Amalfi Coast!  The view was breath-taking, with a tiny light in the harbor shining underwater and illuminating the blue of the sea.  As happens so often in Italy, flavors mingle with the stunning landscapes and friendly faces.  And the whole experience does, indeed, pick you up!
Photo by Suzanne Mangini at Ciro & Sons in Florence