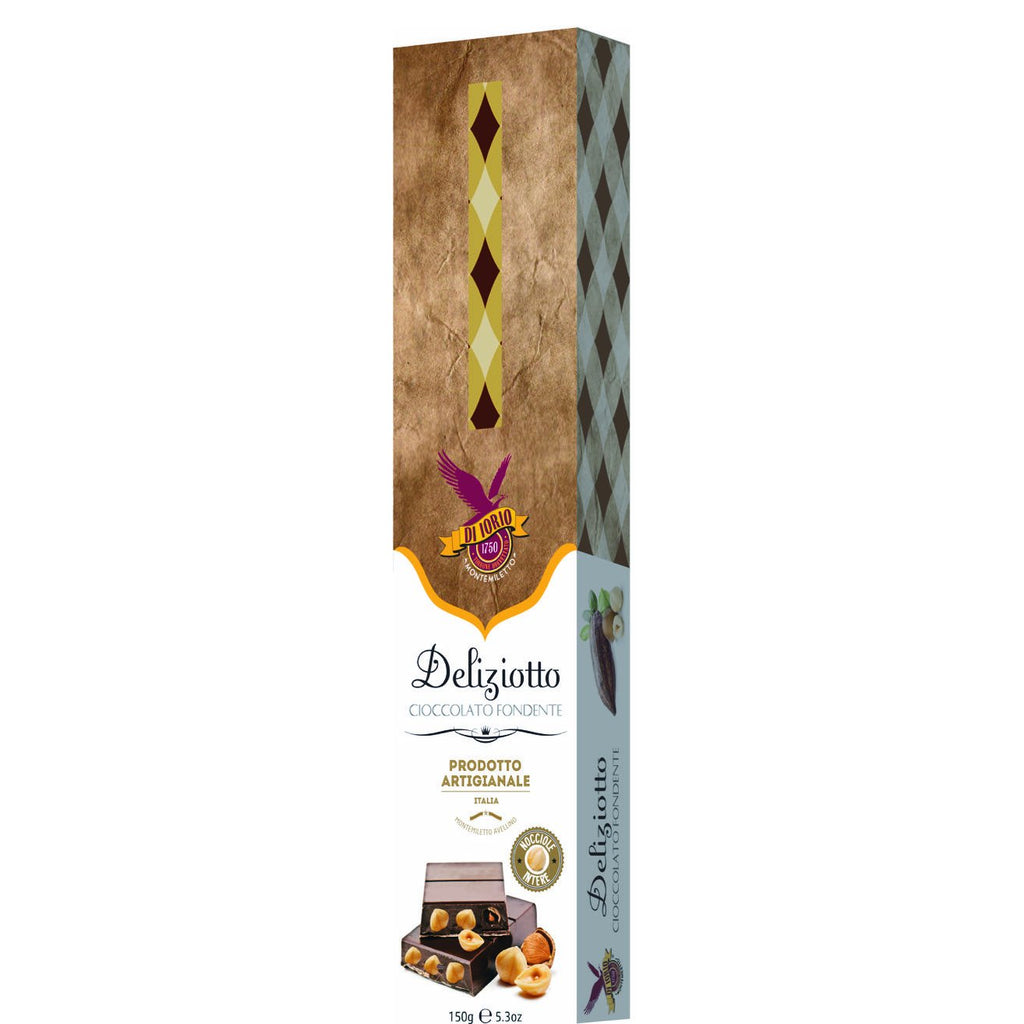 We hope you had a Happy Thanksgiving!  Mia Emilia is offering a special discount on one of our favorite sweet treats this holiday season.  Whether you need stocking stuffers, or decide to treat yourself, Mia Emilia's Di Iorio Milk or Dark Chocolate Bars with Hazelnuts are sure to please any chocolate-lover in your life!
When choosing producers to work with, Mia Emilia looks for many things.  Flavor and quality are most important, of course, but Mia Emilia understands that passion is the key to both.  Small production, and family run, often mean the best products.  That is certainly the case for the master chocolate and Torrone makers at Di Iorio in Campania.
We tend to think of the Campania region as the bustling city of Naples or the chic Amalfi Coast, however, go inland a bit and this region is full of nature and quiet towns where families have lived for generations.
The area of Avellino is especially known for its hazelnuts, which grow plentifully here.  There is a festival in October celebrating hazelnuts and chestnuts that combines them with recipes both sweet and savory.
In this area, since 1750, the makers at Di Iorio have been combining the best quality ingredients from their land with tried and true traditions and a bit of innovation.  The results are delicious.  Mia Emilia offers several excellent varieties of their Torrone, decadent hazelnut and almond spreads, and crisp, authentic biscotti.  However, we are firm believers that anyone who loves chocolate simply must try the chocolate bars filled with Avellino hazelnuts.
Unlike many chocolate bars that are easy to find, these are small production, artisanal delicacies.  Made with passion and dedication, their flavor is rich, and texture is pure, creamy, and never waxy.  The crunch and toasty sweetness of the hazelnuts pairs perfectly with the milk and the dark varieties.
Using 56% cocoa, the dark chocolate bar with hazelnuts is a chocolate lover's dream.  Dark chocolate is known for its health benefits as well as its luxuriously rich flavor.  Great for blood pressure, heart health, brain function, cholesterol, and even thought to have anti-aging properties due to the antioxidants, this is one treat you can feel good about giving or enjoying! 
Milk chocolate fans will be delighted by the quality of ingredients used for this chocolate bar, and the addition of hazelnuts.  Creamy, smooth, sweet, and nutty, this is milk chocolate at its very best! 
Master chef, Gianni, at Di Iorio speaks about his products and procedures with such pride, it is clear this is not only a job to him, it's his life and his passion.  A look around the facility shows an incredibly clean area, more kitchen than factory.  Every step is done personally; nuts toasted, ingredients mixed, and then pressed into the correct shape.
This Christmas, whether you need some special stocking stuffers or small gifts that mean something, these chocolate bars embody the essence of Italy and the spirit of Christmas.  Pure ingredients blended by hand, made with love in Italy.  Delicious flavors, sweet traditions.
To thank our customers this season, we are offering a special discount on our Di Iorio Chocolate Bars with Hazelnuts, so delicious they're actually called, Deliziotto!  Please enjoy a 20% discount on either variety, Milk or Dark Chocolate, between now and December 31st. 
Use discount code: CHOCOLATEBAR
Merry Christmas, and Buon Natale from all of us at Mia Emilia!