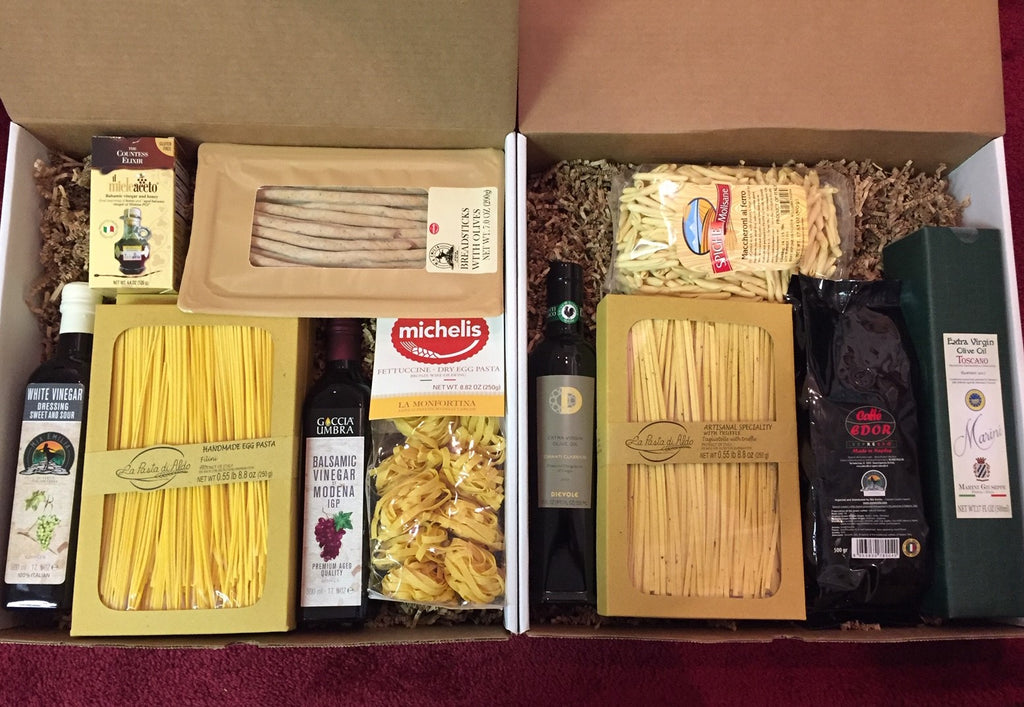 Every year the time seems to fly by faster, and here we are in December once again!  It's Christmas time, and in Italy markets are opening, cities are lighting their trees, and the spirit of Christmas warms the chilled air.
If you are still thinking through your Christmas list this year, we have put together a guide to help give you some ideas for the special people in your life.  Please enjoy, and we wish you all, Buon Natale!  Merry Christmas!
For Gourmet Tastes:
Tagliatelle al Tartufo – Because nothing says the flavor of Italy quite like truffle!
Dievole Chianti Classico DOP Extra Virgin Olive Oil – Any Italian food and wine enthusiast will recognize the black rooster label signifying the excellence inside. 
Mia Emilia White Balsamic Dressing – A flavor unlike anything else; naturally sweet and tangy. One taste and you'll be hooked!
Mieleaceto Countess Elixir IGP – Anything named for a countess has to be good, but this honey balsamic is a truly special gift.
Michelis Egidio Breadsticks in Olive, Rosemary, or Classic – Handmade, with natural ingredients.  An elegant snack that could only be Italian.
La Perla Dark Chocolate Bar – Available in 61% or 75% Cocoa for all the health benefits and rich flavors found in the highest quality dark chocolates.
Caffe EDOR Espresso Oro – Delicious coffee straight from Naples, where the scent of espresso is always in the air!
For the Loved One with a Sweet Tooth:
Monachino Soft Nougat with Hazelnut Filling - Somehow, it tastes even better than it sounds!
Torrone Soft Almond Nougat Dark Chocolate Coated - The most traditional Torrone recipe, with a chocolatey twist!
Torrone Soft Almond Nougat Orange Coated – In the South we always decorated with oranges for Christmas, and Torrone is a popular Christmas gift in Italy.  The tastiest combination of cultures!
Bar of Di Iorio's Milk or Dark Chocolate with hazelnuts – A flavor so fabulous we want everyone to try them! Remember the discount code: CHOCOLATEBAR for this product only!
Di Iorio Spreadable Cream with Hazelnuts – You can taste the love inside, unlike any spread you've ever tasted.  Natural ingredients provide the perfect combination of smoothness and crunch for a nutty flavor that cannot be equaled!
Biscotti with Chocolate Chips – Dip them in your coffee on Christmas morning, and the day is sure to be sweet!
Caffe EDOR Espresso Oro – Perfect for dipping with those biscotti!
For the Pasta Lover:
Mia Emilia's Farrine Spelt Egg Pasta – Much harder to find than regular pastas, spelt offers health benefits like lowering cholesterol and blood pressure and aiding in digestion.  Without the gritty texture of many whole grain pastas, this artisanal spelt pasta is made with finely ground spelt flour, which offers a smooth texture and delicious flavor.  It cooks perfectly al dente as our white pastas do, but offers added health benefits.  A must try for any pasta connoisseur!
Tagliatelle al Tartufo – If anything can improve the already exquisite texture of this pasta, it is the one of a kind flavor of truffle! 
Maccheroncini – Nothing like elbow macaroni we all knew as kids, this is as authentic as pasta gets.  An artisanal specialty made from durum wheat semolina and eggs.  It is so thin that you can even cook it directly in your sauce!
Michelis Egidio Tagliolini Egg Pasta – Arranged in pretty little nests you can cook together, or separate, depending on your desired presentation and recipe.
Spighe Molisane Durum Wheat Semolina, Cavatelli Cercesi – The unique, pretty shape is a product of Molise, a lesser known region on Italy's Adriatic coast.  The shape and texture cling to a sauce and are sure to please the most discerning pasta lover.
For the Health Nut:
Farrini Spelt Egg Pasta – Made with spelt flour, which is known for health benefits like improving circulation, boosting the immune system, aiding in digestion, and more!
Marini Giuseppe Toscano IGP Extra Virgin Olive Oil – Health benefits of EVOO are plentiful, and this one comes from a passionate family farm in Tuscany where the olives grow on the Tuscan hills before being bottled and delighting us.  There is no comparison between this local product and those which are mass produced.  This gift is the next best thing to a ticket to Tuscany!
Marini Giuseppe Toscano Lemon Extra Virgin Olive Oil – If your health nut loves salad and vegetables, this fresh olive oil, flavored with Sorrento lemons will brighten their recipes, and their days!
Mia Emilia White Balsamic Dressing – The life-changing product for any health nut!  Of all the products I love from Mia Emilia, this was the biggest surprise.  A product that will have you actually craving your salad!
La Perla Dark Chocolate Bar 75% Cocoa – For a treat that's packed with antioxidants and flavor!
For the Heart Forever in Italy:
Handmade Breadsticks in Olive, Rosemary, or Classic – Likely one of the first bites they took in Italy would have been a breadstick like this out of a basket on the table.  A taste so authentic it will take them back to that moment.
Mia Emilia's Pappardelle Egg Pasta – Authentic texture like this is hard to find, a classic shape, delicious with a variety of sauces. 
Mia Emilia's Tagliatelle al Tartufo – The taste of truffle can transport you to Italy in an instant.  Festivals, truffle hunting, or watching them shaved over your favorite meal, a trip to Italy is almost certain to include at least one encounter with the "tartufo", and it is impossible to forget.
Spighe Molisane Durum Wheat Semolina Pasta Cecatelli – Different from the ribbon shaped pastas, this one is thicker and will offer a different texture.  Its shape is great to hold onto a sauce and is pretty with any recipe.
Dievole Chianti Classico DOP Extra Virgin Olive Oil – No trip to Italy is complete without trying a local glass of Chianti Classico.  For a wine enthusiast, the rooster is instantly recognizable as the symbol of excellence and authenticity from this particular area of Tuscany.  The flavor inside this bottle will surpass expectations!  It remains one of my favorites in the world!
Mieleaceto Countess Elixir IGP – In Italy, often desserts are a combination of sharp cheeses and sweet honey, or balsamic vinegar.  This gorgeous product combines those flavors and is delicious with cheeses, meats, fruits, anything you choose!
Caffe EDOR Espresso Oro – Italy is almost synonymous with espresso.  No morning or meal is complete without it, and an authentic one with the same flavor enjoyed in Italy can be quite a challenge to find.  This is it. 
Di Iorio Monachino – The flavors of chocolate and hazelnuts combine perfectly, as do the richness of the chocolate coating and the smoothness of the hazelnut filling in this product.  In Italy when flavors combine perfectly they say, "Si sposa bene" meaning they marry well.
We hope this little guide will give you some ideas, and that our products will bring joy and memories to you and those you love this Christmas.  The goal of Mia Emilia is to bring both the quality of products in Italy, and the quality of life there to families closer to home.  
This Christmas season, we wish friends and family far and wide wonderful memories, delicious meals, and priceless moments spent focusing on the gift that is this life together.