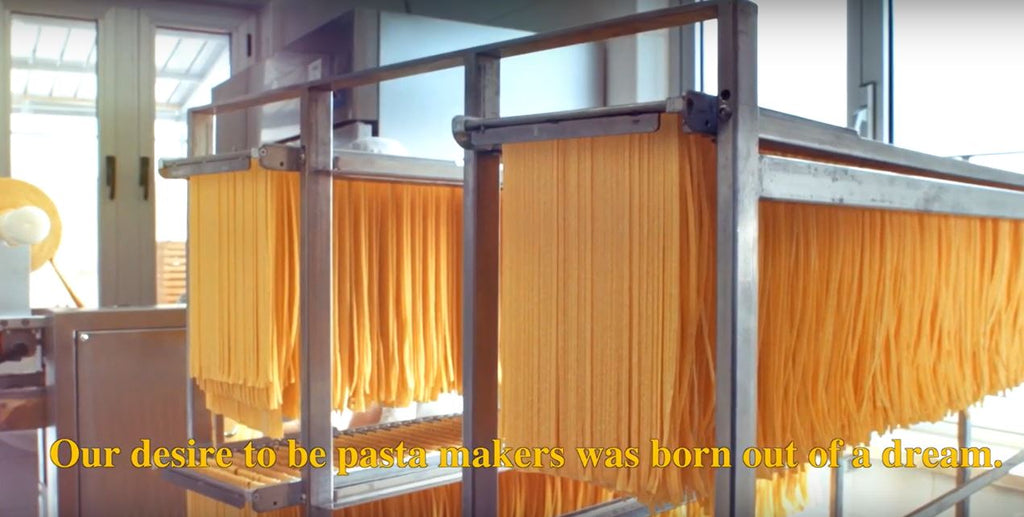 When I first discovered Mia Emilia's products, I was amazed and deeply touched by the authenticity of the products from their packaging to their flavors, textures, and even the emotions I experienced tasting products that I recognized from a place I love so dearly.
Among the greatest surprises in the box was the Egg Pasta from the makers of La Pasta di Aldo in Monte San Giusto, Le Marche. 
For anyone who has been to Italy and tasted the pasta there, you know there is an "al dente" texture to the noodles that is impossible to match with large production brands.  Along with the texture, there is also more flavor in the noodle.  The type of flour used, artisanal methods, and authentic recipes create a match made in Heaven, or at least as close to it as we can get in this lifetime.
At the first bite of pasta from La Pasta di Aldo, if I closed my eyes, I would have sworn I was at an Italian table.  Even pastas I purchased in Italy and cooked back home have not captured that essence of Italy that true, artisanal methods delight us with.  These do.  Every aspect from appearance to texture and taste gave me the feeling that owner, dreamer, and pasta maker, Luigi describes as, "gioia immensa" immense joy.
Falling in love with Italy is in many ways like falling in love with a person.  Sure, it's not for everyone.  But, if it's for you your heart will be there forever.  There is no falling out of love with Italy.  Once it happens to you, the food takes on a deeper meaning.  It's no longer just tasty, now it takes you back.  If it's authentic, that is.
Real Italian cuisine will make the harshest critic of anyone, because once you understand the richness of flavors born of the simplest ingredients, the thought of greasy, heavy, overcooked pasta really upsets you. 
On the rare occasions you find the real deal like this pasta, its value is priceless.  For less than the cost of a mediocre meal at a chain restaurant you can cook your family the best meal they've had outside of Italy.  Perhaps better still, you can be assured that the hands that knead the dough are passionate about all-natural ingredients and centuries old processes that allow those ingredients to shine.
This Christmas I bought several of these pastas for friends so they could try them.  One of those friends came running up to me the next time we saw each other asking what kind of pasta I'd given, why it was so good, and where she could find it herself.  She told me that usually pasta upsets her stomach but eating this one gave her no trouble whatsoever.  And it was delicious!  Certainly, the simple, traditional, and natural ingredients make this pasta easier to digest.
As Luigi describes in the video, making the pastas with all-natural ingredients and only traditional methods is his passion.  He and his wife, Maria, began the company because it was a dream they shared to allow people from parts of the world outside of their beloved Italy to taste and experience authentic Italian cuisine, like their grandmothers used to make.
In order to do this, he tells us they researched traditional methods from before the industrial era when machines took over the jobs once only done by skilled hands.  They reminisced together about the techniques their grandmothers taught them, only making pasta by hand.
In order to produce the same quality in a large enough quantity to be able to give life to their dream of sharing this pasta all over the world, they had to come up with their own tools, which adhere to traditional methods from before the start of the industrial age. Impressive is it not? 
Their dedication to the ingredients, traditions, and history set their pastas apart.  Listening and watching them interact in this video, I cannot help feeling that a bit of their passion goes into the product too.  You can taste it.  You can feel it.  A deep longing to be there comes over me every time I prepare and enjoy a pasta they made. 
Just sitting in the brilliant blue box with Mia Emilia's private label celebrating the special relationship between the two families and companies, this pasta's authenticity stands out.  The noodles retain their shape from being hung to dry.  Watching the video, we get to see where this is done, and it enhances the authenticity even further.
Listen to the video, and even if you cannot understand a word of Italian, you will catch the passion in Luigi's voice as he says, "gioia immensa", describing his joy in working with Mia Emilia to make his dream come true. 
Listening to him say those words I feel tears fill my eyes.  Not tears of sadness, but tears of gioia immensa that Italy, its people, and its cuisine instill into my heart. 
If you share that passion, or if you have yet to discover it, taste this pasta.   You will be as close to Italy as one can get without a passport. 
Click Here to watch the brief video, and spend a few moments getting to know Luigi and Maria; their techniques, land, and passion.