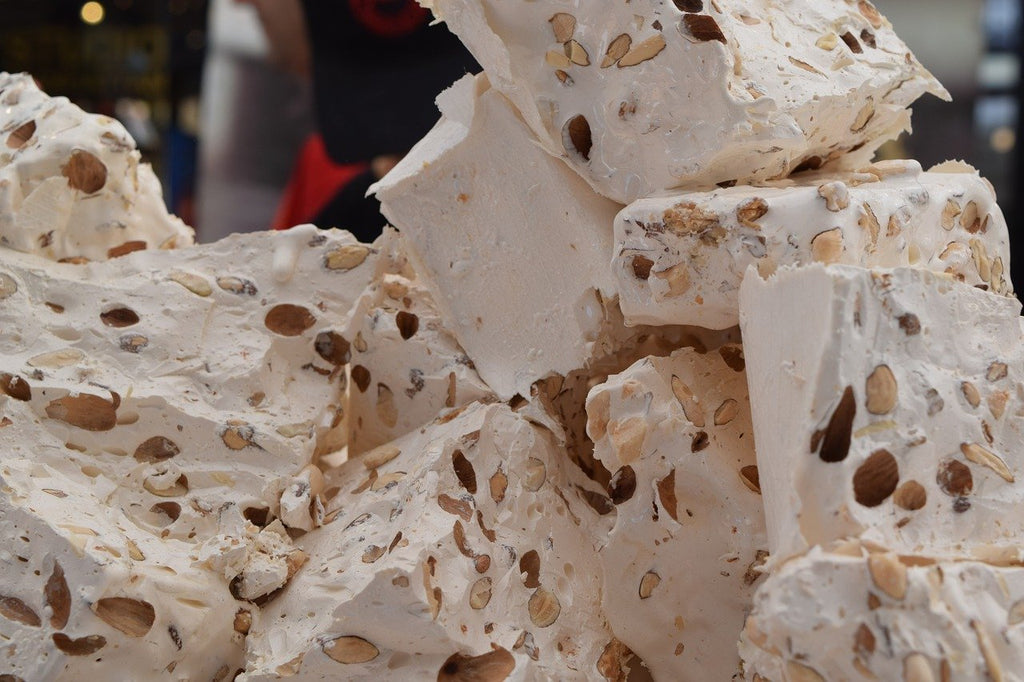 This week in November, Italy celebrates the Torrone Festival in Cremona, where the delicious treat is thought to have originated to celebrate the marriage of Francesco Sforza to Bianca Maria Visconti in 1441.  The festival always includes a reenactment of their wedding, where Torrone was served as the wedding cake.  During the festival in Cremona, all kinds of Torrone are displayed, sampled, and sold. 
Mia Emilia's Torrone is made by Torrone Di Iorio, a family operation that has been combining the best ingredients with slow, traditional methods since 1750. 
If you like to play with your food, Torrone is for you!  The makers here have played with the recipe and come up with varieties and flavors that embody the essence of Italy.  The combinations these innovative pastry chefs have created are exquisite!  Some rich, some delicate, all delicious. 
The most traditional variety is the Torrone Soft Almond Nougat.  I recommend trying this to understand how the simplest of ingredients shine when there is nothing to compete with them.  If all you know of almonds is extract or a can of salted nuts, you really have to try this!  It will change the way you think about almonds forever!
If you enjoy almond, but are also a chocoholic, try this traditional recipe coated in dark chocolate.  Italian or not, you're sure to kiss your fingertips when you taste it! 
If chocolate and hazelnut is your favorite combination, you absolutely must try the Monachino Soft Nougat with Hazelnut Filling.  The flavor is incomparable.  If you like the famous spread, you will adore this product!  A few bars of it now find their way onto every order I place with Mia Emilia, and it has become our favorite chocolatey treat!  (Also try Mia Emilia's Spreadable Hazelnut Cream, by the same makers!)
For pistachio lovers, there are two you should try!  Torrone Soft Almond Nougat, Pistachio Flavored, Dark Chocolate Coated… sounds amazing, right?  I promise you it tastes even better than it sounds!  Torrone Soft Pistachio Nougat combines the delicious local honey with loads of pistachio nuts for a beautifully authentic flavor. 
Anyone who has been to the Amalfi Coast will immediately think of lemons when remembering the elegant towns, little winding lanes, fabulous views, and fruit stands.  For everyone who left your heart there, one taste of the Lemon Coated Soft Almond Nougat will evoke dreams of the splendid, sunny coastline.
Finally, there is the citrusy, Orange Coated Soft Almond Nougat.  It's hard to find flavors that combine so delicately and so nicely. 
I will always remember within about fifteen minutes of finding our hotel the day we landed in Italy for our first trip together, my husband and I stumbled into a bar.  It's not what it sounds like!  Bars in Italy are more like cafes, and we were in desperate need of espresso. 
As our barista took care of our request, a local man came in and ordered his usual.  Orange juice with a splash of Campari.  We watched the barista insert the whole orange into the juicer and the fresh scent filled the entire bar.  I think we had one of those every day that trip.  Now, every time I find that natural orange flavor, I think of fresh squeezed oranges in Italy, and the feeling is happiness itself. 
Since the marriage of Francesco and Bianca in 1441, Torrone has been the ideal gift for many occasions, none more so than Christmas.  They are unlike anything else, and each variety is special.  This Christmas, I plan to give each family member one or two of these based on what they like best. 
Perfect for family, friends, coworkers or your boss, as you think of your Christmas list this year, remember Torrone, a uniquely Italian delicacy made with fine ingredients, traditions, and love.