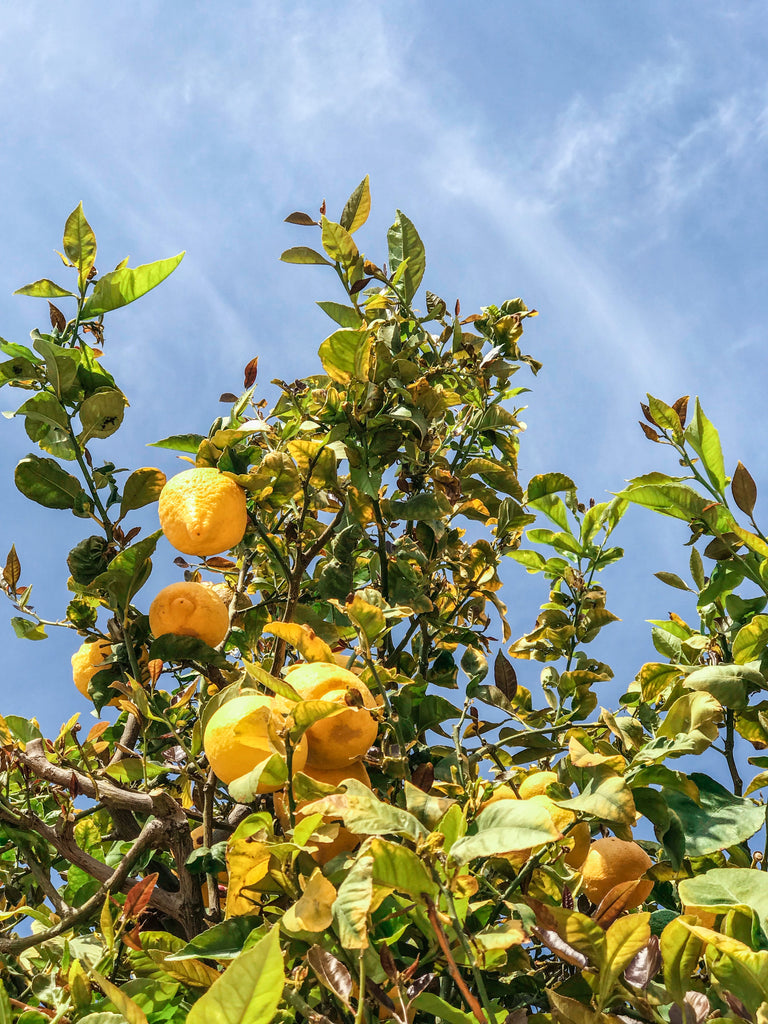 Have you ever been to Italy in the Summer?  Or do you dream of going?   
Gelaterias are full of fresh, fruity gelato and a walk around town will delight you with the scents of lemon and jasmine, coffee and cuisine from sidewalk cafes.  
Water splashes from fountains, laps the seashores, and fizzes from cold bottles of San Pellegrino.  
This time of year, when Summer is fading and Autumn is just beginning to come into view, I cling to those happy, sunny memories.  Nothing says Summer in Italy like the flavor and aroma of lemons.
In the Amalfi Coast, where lemons are famous and plentiful, you can find them infused into recipes, liqueurs, olive oils, soaps, perfumes, and even hand-painted onto gorgeous majolica tiles. The locals love their lemons and celebrate them all year round!  
Around this time last year, my husband and I were in the Amalfi Coast for his first time.  A walk through the beautiful town of Ravello, perched high above the sea introduced him to all the aspects of the area I fell in love with years before. 
Hot days cooled by the shade of green lemon groves and flowers still blooming long into September.  Infinite Sea Views from the aptly named, "Terrace of Infinity", left us speechlessly pondering eternity. 
As we walked hand-in-hand, overcome by both beauty and emotion, we paused for a moment to watch a local chef picking his vegetables for the day.  This is indeed the sweet life.  La Dolce Vita.
Lucky for us, just a taste of Italy can bring back a memory or inspire a dream. 
The same night we discovered the previously discussed lemon tiramisu`, (see our blog about Tiramisu`!)  I ordered a delicate lemon risotto for dinner. 
Giovanni, the hotel and restaurant owner and our new friend, presented it beaming.  I wasn't sure if his smile was for us or the sea below, or life itself maybe, but it was warm and welcoming.  Everything about that evening was warm.  The hearts, the food, the lingering sun on the horizon, cooled only by the breeze off the Tyrrhenian Sea and a chilled glass of limoncello.
A group of musicians happened down the street below playing, "Funiculi, Funicula", maybe the happiest Italian folk song ever written, as the lemon risotto in front of me captured the essence of this coast. 
It was several months after that gorgeous evening when I received my first box from Mia Emilia.  I was curious about the lemon olive oil, because I've tried a few that were missing that true, natural lemon flavor.  This one is not missing a thing. 
"Marini Giuseppe from Pistoia in Tuscany", the label read.  This was promising.  I read more.  I have a habit of reading the label before tasting anything from Italy, it's so special to know where the product comes from. "Extra Virgin Olive Oil with Lemon", it said, and in smaller, pretty letters, "Fresh Olives and Lemons are crushed together". 
Olives and lemons together, the perfect marriage of two of my favorite areas of Italy.  I couldn't wait any longer.  Sure enough, this product brought back those happy, lemon scented memories in an instant.  I couldn't wait to try it in our own lemon risotto! 
I later learned why this product is so very good.  Roberta, at the Marini Giuseppe farm explained that the lemons chosen for this product are the Sorrento IGP (Protected Geographical Indication) variety. 
Sorrento marks the Northern tip of the Amalfi Coast.  Its special lemons are protected and praised for their juiciness, acidity, and high vitamin C content.  It was no surprise to me having tasted this lemon olive oil that Marini Giuseppe had chosen the very best fruits, both lemon and olive, to create it.
The Marini Giuseppe farm manages to combine the best of natural olive and lemon flavors into a product that pairs beautifully with a variety of dishes. 
Risotto is one idea, but also try it on your fish, over your salad, with asparagus, or broccoli, or with a simple piece of bread to capture the full flavor.  The uses are endless, but they all have one thing in common.
When you treat yourself to quality, the hard work of skilled hands and the natural produce of an ancient land, you are treating yourself to something truly special.  Nothing fake here.  No additives, or preservatives.  Ingredients state only: extra virgin olive oil and lemons.  Pure, simple, joy.
To make your own lemon risotto: Do it your way!  If you like fish or shrimp, add them.  Capers? Go for it!  Asparagus?  For sure! 
This will get you started:
Risotto is a traditionally a short-grain rice like Carnaroli.  Arborio is probably the easiest to find here in the states, and it works nicely too. 
Begin by heating some of the lemon extra virgin olive oil in a pan and then add in your desired amount of rice.  Stir.
Splash in some white wine, one you like enough to drink.  
Stir until the wine absorbs.  The alcohol will evaporate, and the flavor will be absorbed into the rice.
Then begin ladling some already heated stock (I prefer vegetable but use what you like) one ladle at a time and stir gently until the stock is absorbed.  Then repeat until the rice is thoroughly cooked.
Once the rice is done, stir in the juice and zest of a few lemons, and some of the Marini Giuseppe Extra Virgin Olive Oil with Lemon. 
Once you put each serving into a bowl, drizzle a little bit more of the lemon olive oil and sprinkle a topping of lemon zest, and you're ready to serve.