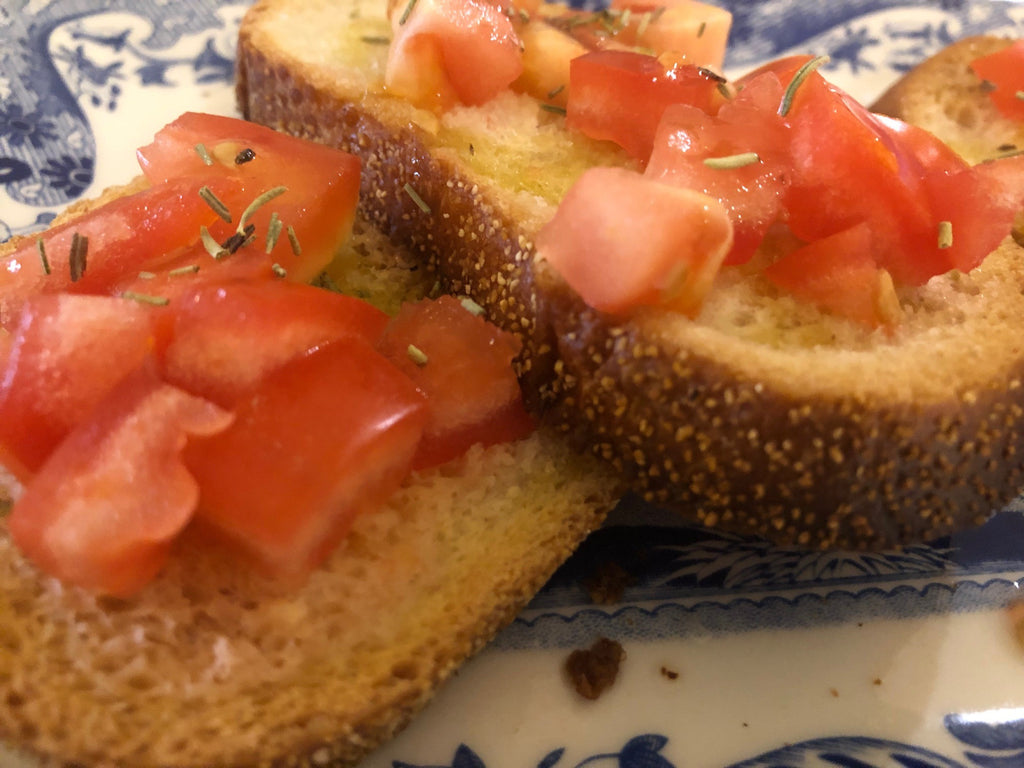 Bruschetta, one of Italy's most beloved appetizers, and one of the easiest to make yourself.  
The great thing about bruschetta is it's fun.  You really can have it your way.  If you're a traditionalist, you only need some bread, an excellent olive oil, garlic, a tomato or two, and fresh basil.  If you like to experiment with your recipes, there are few that are more fun to play with!
In Italy, as here in our own homes, the variations of bruschetta are endless.  Olives, cheeses, prosciutto, salami, basil, oregano, mint, you really can't go wrong.
What do they all have in common?  Toasted bread (on the grill is especially good and authentic!), and an extra virgin olive oil of excellent quality.
To make your own bruschetta, start by thinly slicing a good, artisanal white bread.  Bakeries have great ones, but your local grocery will have something in the bakery section that works too.  Drizzle your favorite of Mia Emilia's Authentic Italian Extra Virgin Olive Oils onto each slice and toast your slices.  
The traditional, rustic way to toast the bread is on the grill, but if circumstances are not conducive to grilling, an oven will work.  The next step is to rub, not slice, raw garlic onto each piece of bread.  This infuses the flavor into the bread.  These beginning steps are the same for whichever other toppings you choose. 
Then, if you choose a common bruschetta that includes tomato and basil toppings, you can add your tomatoes, sliced thinly or diced, as you prefer.  Be sure to choose good, ripe tomatoes to do this.  Drizzle more olive oil right over top, so it sinks into the crispy slices.  Top with fresh basil, and you're ready to serve!   
If you want to get a little bit creative, begin the same way, thinly slicing your bread, drizzling the olive oil and toasting, but then, maybe you want to add an olive tapenade. 
Love a great Caprese Salad?  Try a slice of fresh mozzarella on the bread with tomato and basil and topped with a touch of olive oil and balsamic for a bruschetta that's as pretty as it is delicious.
One of my favorite combinations is a hard cheese like Parmigiano Reggiano or Pecorino drizzled with an aged balsamic vinegar.  Something about the sweet and salty together with the bread and olive oil is fantastic!
For a different, summery feeling recipe, try Mia Emilia's Lemon Extra Virgin Olive Oil, top with mascarpone or ricotta, and a little bit of lemon zest.
You will find recipes including tomatoes and arugula, various meats and cheeses, all kinds of herbs, and sweeter, mascarpone with berries. 
With such a simple recipe, it's easy to make several different kinds for the same group of friends, especially convenient if you all have different tastes, likes and dislikes. 
You can even prepare the bread and then put out some different toppings each person can choose from and make their own special bruschetta.  A fun time for everyone to get creative and feel included!
The only way you can really go wrong with bruschetta is to say it incorrectly to an Italian.  If you have ever done that, you are, like me, cringing right now at the memory.
Most of us here in the states grew up hearing the word mispronounced, as did I, and now are embarrassed when we go to Italy and ask for it. 
Day one of Italian class in college and we were all blown away to learn the mistakes we'd made all our lives.  One poor friend of mine learned her family wasn't even pronouncing their last name correctly!  In typical Italian fashion, our teacher laughed with us and shared her stories of mistakes she'd made in English. 
Mistakes are part of the fun of learning, but in Italy it can really enhance your experience if you know how to pronounce the tough words correctly.  You'll earn a bit of clout among the waiters and sometimes they'll take a liking to you and give you some tips only the locals know!
The great thing about the Italian language, aside from its beauty, is that once you learn how each letter is supposed to sound and a few combinations, you're set.  You may not know the meaning of every word, but you will be able to say them aloud with confidence.
What trips us up with the word bruschetta is the, "sch" part.  We understandably assume it is pronounced as it would be in English, but in Italian, "ch" is pronounced like our letter "k". 
So, it is correctly pronounced, "bru (sounding like brew) schett (like basket but emphasize the "t"), a". 
Think, "brew-sket-tah", and you'll get it right every time!   
Whenever you find yourself in Italy, be sure to ask for bruschetta any time it appears on the menu!  Their recipes will inspire your own, and you are sure to impress your host by pronouncing the word like a true Italian.  You might even make a new friend or two along the way!
Buon Appetito!