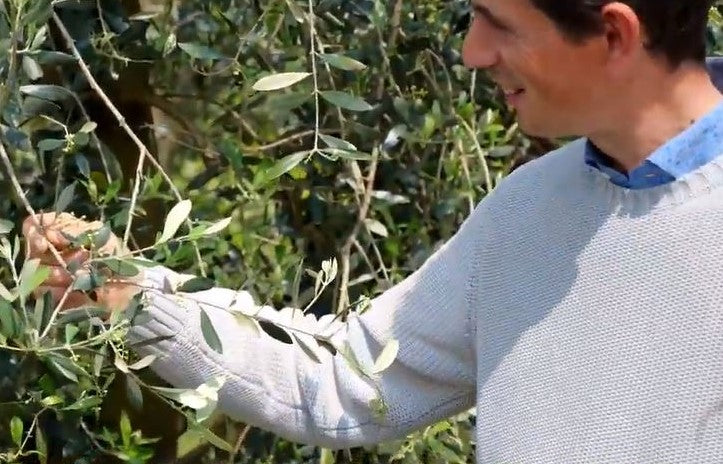 Italy's region of Tuscany unfolds softly to our senses, capturing us with its spirit and beauty; one verdant vista, one haunting aria, one floral aroma, rustic flavor, and warm embrace at a time.  
When I watch the video of the Mia Emilia family introducing us to Giuseppe and his family at the Marini Giuseppe farm in Pistoia, I find myself replaying it over and again to feel that gentle passion once more that is so alive in Tuscany. 
We often think of Italian passion as loud and boisterous, and in cities like Naples it certainly can be, but there is another, quieter passion that lives in the people of Tuscany. 
As we listen to Giuseppe, he explains that he has been managing this farm since his father passed it to him when he was only 20 years old.  While many of the young people moved away from the countryside to find work in the cities, he was determined to continue the work of his father and grandfather before him.
Giuseppe is the third generation and has already passed much of his knowledge and passion to his children.
The smile on his face coveys a depth of joy in the life he lives and the products that he and this Tuscan farm are able to offer.  I love listening to Italian farmers.  So often, the pride they feel is devoted not to themselves, but to the land and their families who passed down ancient traditions. 
Giuseppe's passion is not boisterous, but a simple, quiet contentment that feels as peaceful as the Tuscan hills where he cultivates the land that nurtured him and where he raised his own children.
As Giuseppe introduces us to his son, Fabio, it is clear that he has inherited his father's love of the land and its flavors.  Instead of telling us all his accomplishments, he praises the miracle of nature in the spring, when flowers bloom and fruits fill the trees and vines.  
Both of these men exude joy as they speak about the Tuscan olives, grapes, traditions, and lifestyle.  Tuscany, again, tugging at our heartstrings.
I watched this video before opening my new bottle of Marini Giuseppe's Extra Virgin Olive Oil Toscano IGP, and I had to smile at the first taste. 
Breathing in its aroma hints at the flavors to come, spicy and fruity at the same time.  The first taste is soft and gentle, just like waking up in the Tuscan countryside, even the fog turning pink as the sun comes up to warm the day.  Then, as the oil spreads across your taste buds, its richness and spiciness burst forward, tingling the back of your throat.  If there is a flavor on earth that compares to falling in love with Tuscany, this is it.  The flavor has a complexity you have to taste to believe. 
There are countless things I love about authentic Italian products, but what I love the most is that they are not only products, they are experiences.  These flavors bring the country and its people closer to us.  When we coat our pasta or vegetables in this delicious oil, we smile as we think of where it came from rather than shuddering to ask. 
We can remember Fabio Marini talking to us about the spring flowers that become fruit, and his desire that together with Mia Emilia, he can share not only the quality of his products, but also the depth of his passion for them and for Tuscany with all of us in America.  
How lovely, to buy and to use products from a family like this, who credit not themselves, but miracles, climate, and their beautiful land with the quality of each product they offer.  They are grateful to be in such a wonderful place and able to do this work, and that attitude shines through each pour of the oil.
My mom always used to tell her students that it was impossible to bottle the light that shines into St. Peter's Basilica, tears filling her eyes as she remembered the force of God's spirit that we felt as we stood there the first time.  She encouraged those who could to travel, see the world, and experience life in other places, and moments of utter amazement.
As I enjoy great Italian products, I often think of her and realize that the closest thing to bottling that light is bottling the fruits of the Italian land by the work of Italian hands, which still fold to give thanks for the miracle of nature.  
We may not be able to visit Italy as often as we would like but enjoying these products and remembering the people who produce them allows Italy to be with us and inside us any day of the year.
We invite you to spend a few moments in Tuscany today getting to know Giuseppe and Fabio Marini and their farm in the hills of Pistoia.  Andiamo! 
Click Here for the brief video.