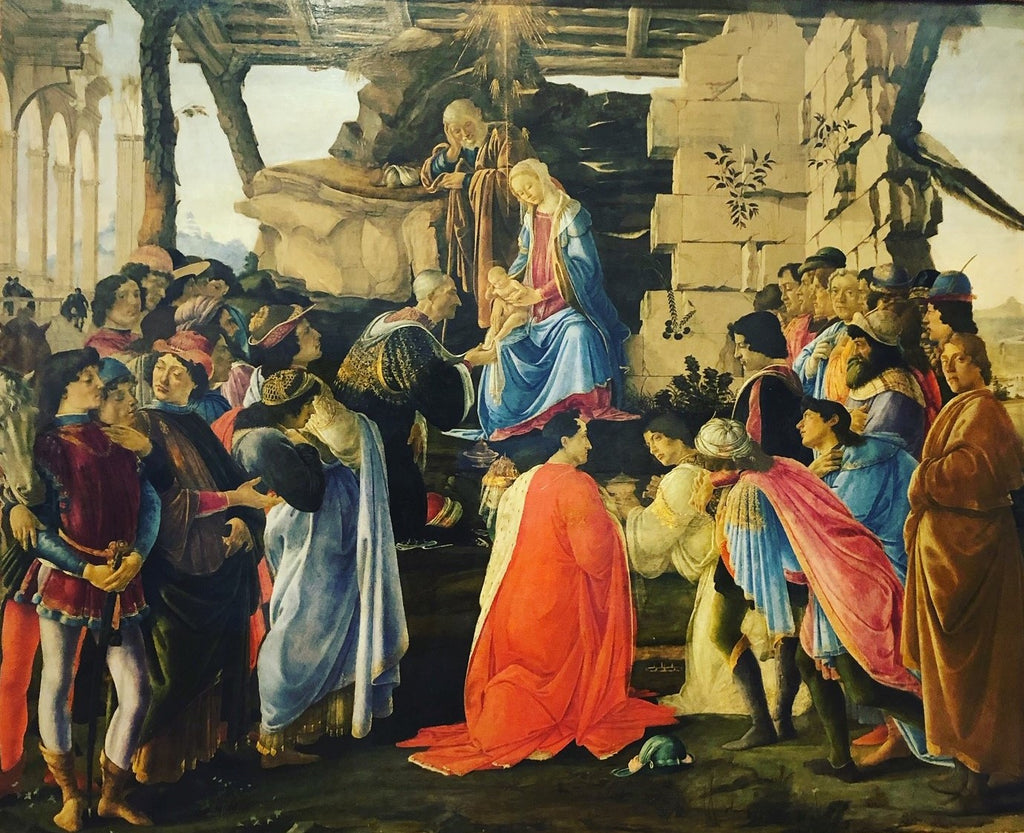 We hope you had a Merry Christmas!  Let's keep the celebrations going!  As we mentioned in our Christmas letter, in Italy, holiday celebrations continue after Christmas all the way until January 6th, the Epiphany.  Today, we will explain some of their charming traditions, along with the meanings and legends behind them.
This New Year, 2020, marks the beginning of a new decade.  A bit hard to believe, isn't it?  Il Capodanno is Italian for New Year's Eve.  The day coincides with La Festa di San Silvestro, the Pope who died on December 31st in the year of 335AD.  No surprise, in Italy, this means a great feast!
Italy's celebrations are not unlike our own, with music and fireworks in the cities.  They do have a few variations though.  In Italy, it's lentils rather than black eyed peas that symbolize good luck.  Mix them into a tasty ragu` to serve with Mia Emilia's Pappardelle for a deliciously Italian twist to your New Year's meal.
While we tend to say we drink champagne here to ring in the New Year, we may already be embracing a tradition that is more Italian than French.  Do you like an Asti, Spumante, or Prosecco to toast at midnight?  If you do, you are celebrating the same way Italians do, drinking the sparkling wines that their land provides.  Salute!
New Years Day means music and parades, and it is a day when most offices are closed to allow employees to rest and be with family and friends. 
While here in the States, New Year's Day often marks the end of our holiday season, in Italy, the fun continues.  Especially for kids, Epiphany on January 6th is almost as exciting as Christmas itself.
Epiphany celebrates the day when the Wise Men came, following a star, to the manger to visit the Christ Child and bring Him gifts of gold, frankincense, and myrrh.  In Italy's famous Presepe, nativity scenes, and the Renaissance paintings like the one featured here by Sandro Botticelli, we often see this moment beautifully depicted.
Italians have added legend to the holy celebration in the form of La Befana.  The folkloric legend goes that La Befana, an elderly lady and excellent housekeeper, was visited by the Magi as they were in search of the Christ Child. 
The story varies, but the general idea is that they asked her for directions on where He might be found.  She did not know the way, though she did welcome them to stay and rest for the night.  They invited her to join them the next morning, but she declined because she had too much housework.  Later, she regretted the decision and set out to try to find the Child. 
She never found Him.  So, still today, she is said to search for Him on the eve of Epiphany and visit every child, coming through the chimney, to leave gifts and treats. La Befana fills stockings and is even said to tidy up the homes before she leaves. 
Her story reminds me a bit of Martha, in the Bible, complaining to Jesus that her sister has left her to do all the work so she could sit and listen to Him.  His response reminds Martha and all of us that work will always be a part of life, but we must choose to focus on Him above all else so that we don't miss out on the best part of life, our relationship with God.
The tradition of La Befana is not unlike our Santa Clause, but instead of Christmas Eve, she comes on the eve of Epiphany, and she is tied into the story of the Magi in this legend.  I can't help thinking there is a lesson to be learned here.  As children receive their gifts in the morning, they are reminded of the Magi, and the spirit of Christmas extends just a bit longer. 
On the morning of January 6th, children awake to find their stockings or shoes full of treats, unless they have been particularly naughty, in which case they might find a lump of coal. 
Assuming your children have been good this year, if you would like to introduce them to this tradition, the story can easily be found online or even in children's books.  Tell them the story, and have some gifts prepared for them. 
Traditional gifts are focused around chocolate, which makes an easy stocking stuffer.   Try Mia Emilia's  Deliziotto chocolate bars with hazelnuts in milk or dark chocolate, or our excellent chocolates from La Perla in Torino.   One treat that almost always appears from La Befana is torrone, the traditional nougat candy.  For some of the best, try Mia Emilia's Monachino Soft Nougat with Hazelnut Filling, Torrone Soft Almond Nougat Dark Chocolate Coated, or any of your child's favorite flavors (pistachio, lemon, orange, almond, and the list goes on!) incorporated in these delicious, handmade Italian treats.  
Happy New Year from all of us at Mia Emilia!  May 2020 bring your family countless blessings and joy!